Do not neglect to show hospitality to strangers,
for by doing that some have entertained angels without knowing it.
-- Hebrews 13:2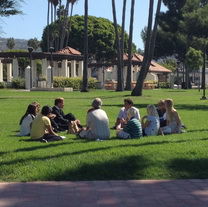 Schedule of Services

Sundays
9:45am Nursery Care in the Education Wing (infant - 4 years)
10:00am Sunday School in the Education Wing (Grades K-5)
8:00am Holy Communion (spoken)
10:00am Holy Communion (with choir)
12:00pm La Misa en Espanol

We Welcome Children at Worship and for Sunday School
We encourage you to bring children of any age to worship. Don't worry if your children won't sit still. We understand that is part of being a child. If your child needs to take a walk or get a drink of water, please feel welcome to tend to those needs. If you prefer to try our nursery, it is available for children up to four years of age.
Nursery
The nursery at St. Clement's by-the-Sea is located in the education wing on the far end of the parish grounds on the Aragon side. Go through the double doors and up the stairs. Our nursery is a place where parents can feel confident to leave their children, knowing they will be in a safe, secure environment. If you have any questions, stop by on Sunday morning and speak with the Nursery Staff Person. Nursery Hours: Sundays 9:45 am to 11:20 am (and other times, as announced).
Handicap Access
The Sanctuary is wheelchair accessible through the side doors on the Puente side of the Parish Grounds. There is one handicap parking stall in the parish parking lot (also located on the Puente side of the Parish Grounds). The Office Building is wheelchair accessible by going along the breezeway on the Aragon side of the building, through the double doors near the Parish Hall.
Office Hours
The Parish Office is located on the Aragon side of the Parish Grounds. Office hours are Monday from 9:00 am to 1:00 pm, Tuesday through Friday 9:00 am to 2:00 pm (Saturdays by appointment with a member of the clergy).
Directions
St. Clement's by-the-Sea is located at 202 Avenida Aragon in San Clemente. We are located at the tip of Max Berg "Plaza" Park, and across from Las Palmas Elementary School. A map and directions to the parish may be found here.
Parking
There is normally plenty of parking around the church, thanks to the school and the park being in close proximity. Occasionally, on weekdays when school is in session and on those rare weekends when the City of San Clemente hosts large events (normally on Saturday), parking may be a little daunting. The parish does have a small parking lot, located on the Puente side of the Parish Grounds.
Click here to read some testimonials from St. Clement's parishioners
Contact Us
St. Clement's by-the-Sea
202 Avenida Aragon
San Clemente, CA 92672
Email: info@scbythesea.org
Office: 949.492.3401
Fax: 949.366.8944
---